The Rideau Canal Skateway will be one of many opportunities Canadians have to enjoy winter in 2021.
---
When it comes to winter, nobody does it like Canadians. The winter season brings us new opportunities to enjoy time together outdoors—at a safe (and fun) distance. So put on a toque, grab a scarf, and get ready to face the crisp fresh air!
Here are our top seven tips on how to enjoy a great Canadian winter.
Embrace the Outdoors
There's nothing quite like breathing in the fresh air of the great outdoors. Studies have shown that time spent exercising outside can benefit both your physical and mental health. It's essential to take time out of each day to plan for outside activity, whether moderate or intense. Just don't forget to dress for the weather!
1. Go for a Walk
The easiest way to get out of the house and take in the enchanting winter scenery is to go for a walk. You can enjoy this healthful activity in your local neighbourhood or on a designated walking path. Walking can be done at whatever pace you find comfortable. You can even do it if you're feeling under the weather—and it may go a long way to improving both your physical health and your spirits!
2. Take a Hike
Want to up the ante? Try hiking one of Canada's renowned trails. Canada is celebrated for its magnificent terrain and scenic viewpoints that only get better when covered in crisp white snow. You never know what you'll get to see on a hike, from snow-covered pines, to waterfalls and blue lakes! There are many types of hiking trails located in every region that range from easy strolls to more strenuous hill climbing. So, slip into your hiking boots and start walking.
Handy Hiking Checklist:
Hiking backpack
First aid kit
If you don't have a knowledgeable guide, make sure you have navigation (map and compass, or GPS)
Snacks
Fresh water
Gloves, hats, scarves, and ear warmers
Check the weather report before you head out and consider what extra clothing you might need
Bradosol Lozenges to soothe that raspy throat in the dry winter air
3. Soft-Shoe Over the Snow
Some of us prefer the path less trodden. But exploring the woods off the beaten path can be too snowy for regular hiking boots. Why not try swapping them for snowshoes instead? Snowshoes allow you to stay above the snow surface, and experience the quiet majesty of Canadian forests in a unique way. Make sure you bring a camera, because the splendour of an unspoiled snowy wilderness can be a memory worth keeping!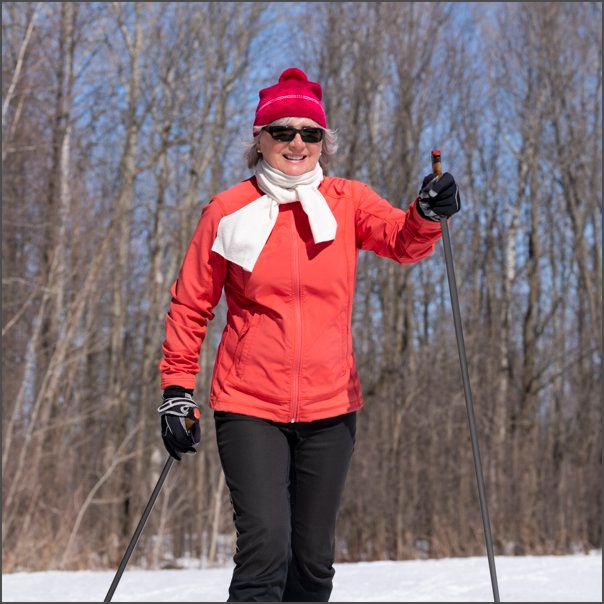 4. Hit the Hills
While we're on the topic of Canadian landscapes, it would be impossible not to mention the downhill activities Canadians consider to be winter favorites. Activities like tobogganing or sledding, skiing, and snowboarding, are all popular winter sports that allow for healthy social distancing. Aside from the equipment rental and chair lift, it's just you and the open air out there!
5. Take to the Ice
Around the world, Canada is known as the country of hockey and ice-skating. Now, we're not saying you need to suit up and shoot the puck or even land an axel, per se, but visiting your local ice rink for a casual skate is time well spent that you won't regret. Maybe even a frozen pond. Many local rinks can be used free of charge. And—great news for those who are near enough to visit our nation's capital—it's been announced that the Rideau Canal Skateway will open this year, when ice conditions are ready. You can check the ice conditions here.
6. Get Lessons
If you're a first-timer, don't let fear stop you from the experience. Research your local ice rink or ski hill for lessons, or go with an experienced friend. Don't be afraid of falling down; you can always get right back up! If you don't have your own skates you can rent them at some of the larger rinks. Make sure to research the ice rinks in your area to see what they offer.
7. Cozy-Up Indoors
If you find the winter air to be too harsh for you, you're in luck! Canadian winters can be just as enjoyable indoors as they are outdoors. While you might miss out on the pretty view, we understand that the wilderness is not everyone's cup of tea. Instead, why not enjoy a soothing cup of tea, in the comfort of your own home?
Allowing ourselves to enjoy some time spent indoors can feel relaxing and fun—the cozy joys of a warm fire in the fireplace or backyard chiminea. Playing board games with family members, reading (or writing!) a book, cooking or baking - the list of possibilities is endless!
It's All About Being Prepared
Winter in Canada can feel like a never-ending blizzard if you're not used to it, but it doesn't have to be. Challenge yourself by stepping out of your comfort zone and stepping into the winter air.
We know that the first snowfall of the year got you excited, so don't be too quick to wish it away. If you follow our suggestions on how to enjoy a great Canadian winter, come this time next year, you'll be looking forward to fresh snow! All you have to do is wear some warm clothes, grab some family or friends, pack your Bradosol (just in case) and take part in these beloved Canadian activities!
Now It's Your Turn
Do you have a favourite activity we didn't mention? Have you just discovered (by necessity) a great way to enjoy the outdoors while staying safe and socially-distanced? Tell us all about it by using the comment form below!